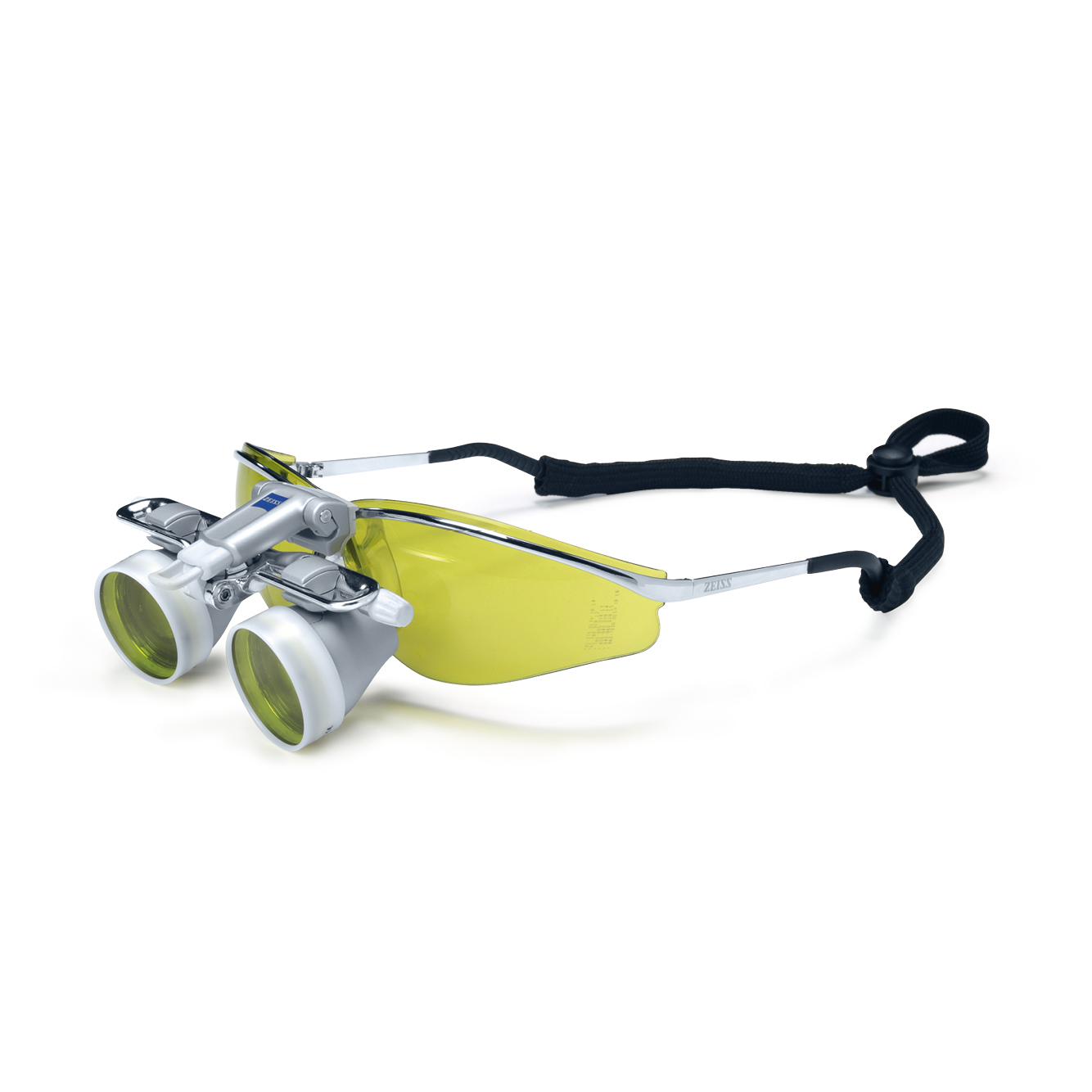 ZEISS EyeMag Smart with sports frame and laser protection
Product ID:
304112-9004-000_-_304211-9500-000
On the same wavelength as modern therapies
The optical quality of EyeMag® Smart loupes from ZEISS delivers precise images with good color fidelity extending to the peripheral zones. Good depth of field ensures clear visualization of anatomical structures in deeplying channels. The loupe system, delivered on a lightweight frame, is easy and intuitive to operate, making it particularly attractive to first-time users.
With 2.5x magnification, ZEISS EyeMag Smart loupes provide large fields of view, enabling you to always see the whole picture. Choose from five configurations ranging from 300 to 550 mm depending on your individual working distance.
ZEISS EyeMag Smart can be easily and intuitively adapted to your current treatment position. The adjustability of the eyepiece inclination allows you to work in a relaxed position and prevent back and neck problems at the same time.
Minimally invasive laser therapies are gaining increasing importance in everyday medicine. ZEISS EyeMag Smart ensures perfect visibility and optimal protection during the procedure.
The combination of laser protection eyeglasses and eyepiece protection meets all laser safety requirements stipulated by the European standard EN 207.
Prices visible after login
Excl. GST
Description

Technical Data

Standard delivery package

Optics
Featuring a Galilean design
Carrier
Sports frame featuring laser protection and eyepiece protection,
with elastic headband and soft nose bridge
Lens protection device
Shields the objective lens against splashes and particles.
Features high-quality, scratch-proof ZEISS anti-reflective coating.
Contact guard
Sterilizable to reliably swing loupes up and down
Soft case
High-quality, shock-proof protection for your medical loupes and accessories

FAQ

Optical magnification increases visual performance regardless of your age and natural vision.

With perfect vision, the human eye has limited resolving power of approximately 70 micrometers at a distance of 250 mm between the eye and the object. With poorer vision, the resolving power deteriorates accordingly. Strictly speaking, this means at a normal viewing distance, the human eye does not have enough detail recognition for many medical procedures.

By squinting or leaning over, it is possible to improve your resolution briefly. However, this can lead to fatigue and pain over longer periods.

A study has confirmed that optical magnification increases the visual performance of dentists – regardless of age and also equally whether the natural vision is good or limited.

Source for resolution and increase of visual performance
Influence of loupes and age on the near visual acuity of practicing dentists. Eichenberger, M., Perrin, P., Neuhaus, K.W., Bringolf, U., Lussi, A., Journal of Biomedical Optics 16(3), March 2011

Selecting the appropriate medical loupes requires a precise analysis of your needs and working conditions.

Doctors primarily want to see more details than they can with the naked eye. Unfortunately, high magnification always leads to a reduction of the visual field. At the same time, very long working distances and high magnification do not go hand in hand. Which combination of magnification, working distance and visual field is right for you? What type of loupes best fulfill your requirements?

The following questions will help you select the right glasses from the EyeMag® line from ZEISS:

What is your experience in working with magnification?

a) Beginner
We recommend ZEISS EyeMag Smart for first-time users. Because of its large field of view and its ease of use, it facilitates getting accustomed to working with loupes. Its low weight and 2.5x magnification make it a universal companion for everyday medical procedures.

b) Advanced/ Professional
With the ZEISS EyeMag Pro, you will receive even better optical quality that impresses in particular with the high edge definition, light intensity and color fidelity. Advanced users of medical loupes can choose from 3.2 times to 5 times magnification.

Are you more interested in an ergonomically correct working position rather than high magnification?

Then you should focus on the working distance that is right for you and your typical treatment situation over the other parameters when selecting the medical loupes. (See also question about working distance).

Which magnification factor fits my application?

Different medical disciplines have different magnification requirements.
Therefore, the right magnification factor depends on the respective medical discipline and application.

In general, the higher the magnification factor…

> … the smaller the field of view
> … the lower the depth of field
> … the lower the free working distance
> … the lower the light intensity
> … the more difficult it is to monitor the environment
> … the more strongly every movement from the patient or the dentist effects the field of view

Therefore when selecting the magnification factor, we recommend: "As much as necessary, as little as possible."

For all-day use and diagnoses, we recommend our ZEISS EyeMag Smart with a magnification factor of 2.5x. The good balance between magnification factor, field of view and depth of field make it easier for first-time users, in particular, to enter the world of visual magnification.

Our ZEISS EyeMag Pro with magnification factors of 3.2 times to 3.6 times are suitable for procedures with additional requirements on image quality and magnification. For operations on blood vessels or nerves, higher magnification (4.0x – 5.0x) may be necessary.

In dentistry, the following magnification levels are common depending on the specialization:

> General dental medicine, dental hygiene, implantology: 2.5x – 3.5x
> Endodontics, dental prosthetics, periodontics: 3.5x – 4.5x
> Dental technician, lab work: 4.0x – 5.0x



The field of view or visual field is the area that you can see when looking through medical loupes. In general: the larger the field of view, the easier it is to get your bearings straight.

This effect is known from photography: the more an object is enlarged (zoomed), the smaller the image frame or field of view. The same thing also applies here: the shorter the distance to the object (e.g. macro photos), the smaller the image frame.

Therefore, we recommend head-worn loupes with as large a field of view as possible for first-time users and daily medical procedures. The direct view of areas neighboring the treatment area enable easier orientation. This allows you to work in comfort without moving your head a lot. For applications in which details are primarily in the treated area, you have to sacrifice field of view for a higher magnification factor.

The titanium eyeglass frame featuring a traditional design is available for both the ZEISS EyeMag Smart and the ZEISS EyeMag Pro F. The neutral lenses protect against splash water and tissue particle and can be additionally enlarged with the enclosed side shields. These frames are available in three sizes, of which M (53-20) is the standard size in 90 percent of orders. Furthermore, corrective lenses can be inserted at any time – please contact your optician.

The compact and lightweight sports frame featuring a modern design provides added wearing comfort for ZEISS EyeMag Smart. The curved lenses protect the wearer against splash water and tissue particles. This frame is available in one standard size.

For time-consuming treatments, the headband for the ZEISS EyeMag Pro S is a comfortable alternative. The headband ensures that the weight is evenly distributed and thus ensures more comfort. This headband can be configured to the individual wearer.

Light carries information. Without light, there is no information.

As high as the magnification may be, it is only effective when the examination or operating field is fully illuminated without shadows. Diffuse illumination through ceiling lighting, oblique light from surgical lamps or other external light sources can cause dark areas. As a result, root canals or fractures laying in shadows can be overlooked.

With a light source mounted on head-worn loupes, it is possible to achieve virtually coaxial illumination (almost parallel beam path to the optical unit). Shadows are removed from the observed object and the homogeneous illumination of the treatment field is thus not impaired.



For fatigue-free, relaxed work, a neutral posture in which your back is straight, possibly supported by a treatment chair, is recommended.

This neutral posture is often negated by trying to get a better view of details. The use of loupes at a working distance adapted to the treatment situation helps users maintain a neutral posture. Studies verify that the correct use of loupes not only increases the quality of the treatment, but also promotes a correct seated position and this the musculoskeletal health of dental hygienists.

The ZEISS EyeMag Smart and ZEISS EyeMag Pro flip-up systems allow users to set the eyepiece tilt to their needs. This ensures that their head only has to be tilted slightly downward during the procedure. Head tilt is minimal when the eyepieces are positioned in the lower third of the eyeglass lenses.

Source for ergonomics:
Effect of Magnification Loupes on Dental Hygiene Student Posture, J. Peggy Maillet, M.Ed.; A. Michele Millar, Ph.D., Jullian M. Burke, D.D.S.; Michelle A. Maillet, D.D.S.; Wayne A. Maillet, D. D. S.; Nancy R. Neish, M.Ed., January 2008, Journal of Dental Education
Effect of magnification lenses on student operator posture, B.G. Branson, K.K. Bray, c. Gadbury- Amyot, L.A.Holt, N.T. Keselyak, T.V. Mitchell, K.B.Williams, Journal of Dental Education, 2003
Surgical magnification in dental hygiene practice. Sunell, S., Rucker, L., Int J Dent Hygiene 2, 2004, 26-35

The interpupillary distance is the distance between the pupils of both eyes when looking at an object. ZEISS medical loupes can be adapted to the personal interpupillary distance at any time.

To do this, use the outside to inside setting principle – just like setting binoculars:

Increase the distance of both eyepiece to the maximum. On ZEISS EyeMag Smart, turn the wheel on both eyepieces left or right. On ZEISS EyeMag Pro, loosen the setting screw on the folding bridge (between the eyepieces).
Focus on an object through one eyepiece.
Reduce the distance between the eyepieces until the round image frames form a homogeneous circle.

During a procedure, dentists focus on an object by moving their head and/or upper body back and forth slightly.

Within a working position, the depth of field is the area in which an observed object is sharply focused without changing the position of your head:

The depth of field is the distance between the nearest object plane in focus and the farthest object plane in focus within an image frame. This depends on the magnification factor and working distance. The greater the magnification or the lower the working distance, the smaller the depth of field in the image frame. Additionally, the depth of field is influenced by the near accommodation ability of the eye (near vision). This means that the perceivable depth of field decreases with increasing age due to the deteriorating elasticity of the eye.

Technically speaking, the optical units for medical loupes are pure magnification aids that cannot correct defective vision. However, defective vision is not an obstacle to using medical loupes.

The optical design of medical loupes assumes that the user's eyes are not defective or that the defective vision has been fully corrected. Only in this case is optimal imaging achieved.

It is possible to insert corrective lenses into the titanium eyeglass frame. Please contact your eye care professional who will be able to insert suitable corrective lenses in the frame. Various visual defects such as shortsightedness and farsightedness, as well as astigmatism can be compensated. If the defective vision changes, corrective lenses can be easily replaced at any time without having to modify the loupes. We do not recommend using progressive or multifocal lenses because the different areas/corrections in the lenses would make it more difficult to correctly set the loupes.

The titanium frames for ZEISS EyeMag Smart or ZEISS EyeMag Pro F provide basic protection which can be improved through the use of side shields. The titanium eyeglass frame comes with the side shields.

Due to the curved lenses, the sports frame for ZEISS EyeMag Smart provides extensive protection. Therefore, you do not need any additional protection with this frame.

To achieve optimal protection with the ZEISS EyeMag Pro S with headband, we recommend using protective goggles.

The eyepieces on all ZEISS EyeMag medical loupes are sufficiently protected against splash water and tissue particles as a result of the lens protection.

We recommend using an alcoholic disinfectant (or alcoholic disinfectant cloths) for the disinfection of your medical loupes. Apply it in accordance with the disinfectant manufacturer's instructions.

The sterilizable contact guard permits sterile operation of the medical loupes. It must be sterilized before every use. This also applies to the first use after delivery.

When using an autoclave, the contact guards must be sterilized for five minutes at 132-134°C.

CAUTION: Never hold the eyepieces under running water and never put them in an ultrasonic bath. This could immediately lead to irreparable damage to the eyepieces.

Technically speaking, the optical units for head-worn loupes are pure magnification aids that cannot have any negative effects on the human eye.

When medical loupes are used properly, they will not cause damage to your eyes. In fact, over time, medical loupes enable more relaxed vision: using loupes virtually eliminates the need for near accommodation of the eye. As a result, the ciliary muscles are relieved and eye fatigue avoided.

To prevent damage to your eyes, never look directly at the sun or at high-intensity light sources such as lasers while wearing medical loupes as this may irreversibly damage your eyes.

The optical design of the ZEISS EyeMag Smart is based on the principle of the Galilean telescope. A converging lens is used as the objective and a diverging lens is used for the eyepiece. This results in an upright, unreversed image. This also means less weight which ensures more wearing comfort. However, due to the compact size, it is only possible to realize lower magnification factors.

For higher magnification at the same working distance, a more complex optical design is necessary. On the Kepler-type (prismatic) ZEISS EyeMag Pro medical loupes, the optical system is comprised of multiple different lens elements. Because Kepler-type systems reflect the incoming light beam through the lens elements, an additional erecting prism is required. As a result, the incoming light beam has to be erected to display the image in the right position. ZEISS EyeMag Pro medical loupes offer higher magnification factors and better detail recognition. Compared to the Galilean medical loupes, ZEISS EyeMag Pro features increased edge definition and minimized image distortion.
(Source: Neuhaus et al. Medical Instrumentation 2013)

A simple way to determine the optical quality of medical loupes is to observe an object with straight black lines (e.g. checkered paper).

To compare various medical loupes, find a spot on the object whose details can only be seen under magnification. You can determine the optical qualities of the medical loupes through the occurrence of any chromatic aberrations (for more detailed information, see question: What is an apochromatic lens and what are its benefits?) in the form of a bluish haze next to the black lines and curved or spherical distortions (spherical aberrations). The higher the optical quality, the less these phenomena occur and the better that reality is rendered.
(Source: Neuhaus et al. Medical Instrumentation 2013)

Flip-up loupes offer more flexibility compared to TTL loupes.

Flip-up loupes allow the wearer to move the eyepieces out of their visual field whenever they are not needed. This enables them to speak with patients without having to remove the loupes.

If the user's vision changes, the prescription lenses on flip-up loupes can be more easily and economically replaced. The corrective lenses can be simply replaced in the frame by an optician. With TTL loupes, the entire system must generally be returned to the manufacturer to renew the optics.

Flip-up loupes without prescription lenses can be worn by multiple users because the eyepiece tilt and the interpupillary distance of the various users can be set to the individual requirements at any time. TTL loupes, on the other hand, are specially configured and manufactured for the user. They cannot be worn by several users.

An apochromatic lens delivers excellent image quality and color rendition.

Chromatic aberration:

A typical optical aberration leading to reduced image quality is chromatic aberration. This results in color fringes that blur the image. This aberration is caused by the prismatic effect of a lens. White light emerging from an object and passing through the lens is dispersed into its spectral colors when it exits the lens. The lens bundles the exiting light rays at one focal point, but because blue light is refracted more strongly than the other colors, it is focused closer to the lens. Red light is focused at the greatest distance from the lens. This means that the focus is "smeared," leading to color fringes and an impression of blurring.



Apochromatic correction:

Chromatic aberration can be largely corrected by implementing the appropriate lens design and by using glass materials with special refractive indices. Apochromatic correction is the term used to describe the highest level of correction utilized to remedy this aberration by imaging red, green and blue light at a common focal point, therefore generating excellent image quality and outstanding color rendition right into the periphery of the lens.




Further Information

Standard Delivery